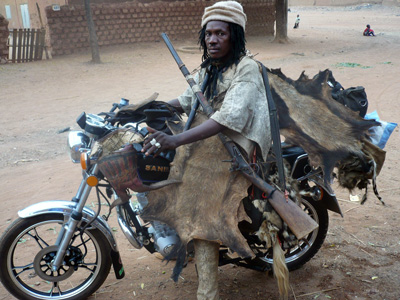 In November this year Giovanni Innella, a former classmate of mine from the Design Academy Eindhoven, set about on a new project to travel to Burkina Faso and mediate the integration of a new high speed internet connection available to the population. The introduction on his site Googling Burkina explains the purpose, such as educating the locals with the use on online tools and the creation of online businesses to generate income for the country, which is poor by African standards. As an example, one idea discussed is the use of google maps to connect tourists with local guides. We all know that the internet is proposed to be capable of far more de-centralized organization than which we are typically accustomed, which makes Burkina Faso an interesting case. As a country which is relatively lacking in centralized organization to begin with, but experiencing the internet for the first time, the sociological landscape is virgin, open for radical new forms of technologically applied organization.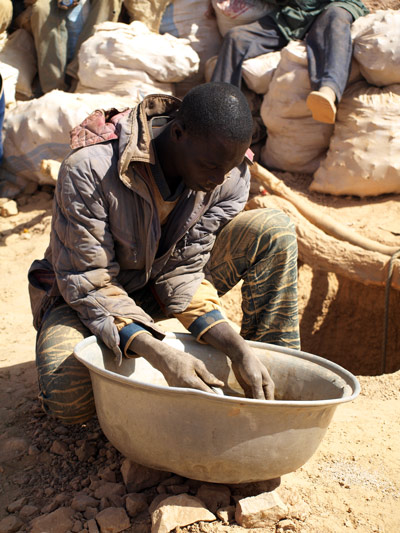 In an effort to understand the country, Giovanni has traveled around and had some crazy adventures. He has explored the desert and met workers at open-pit `micro-mines', who dig tunnels 15m straight down into loose sand in the hope of finding tiny grains of gold, in a seemingly anarchist co-operation amongst the sand dunes.
Later he met witchdoctors, who were really mercenaries. They blessed him with sorcery then proudly showed him photos of their limbless bloody victims. Giovanni remarks that although he had of course seen dead bodies before in the media, what was terrifying about these photos was they they were not from newspapers or magazine, but real analog photo prints. Who developed the photos?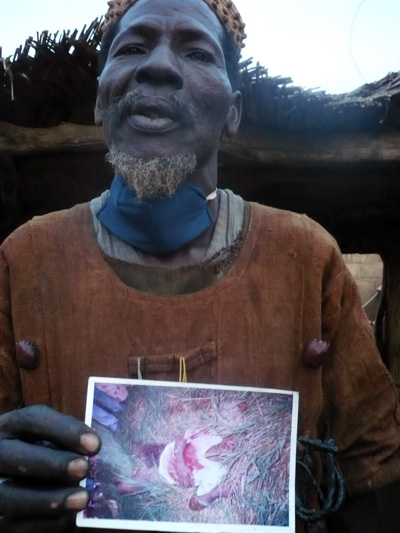 For all the wildness of his journey, Giovanni is a product designer by training and also posts about the more sanguine subject of furniture design in Burkina Faso. Although trivial compared to the social forces that create subsistence gold mining or blood thirsty sorceror-soldiers,  they are unique and I think interesting to discus. Giovanni's own attempt to design  a chair in collaboration with a local metal-smith became a strange simulacra of Mark Newson's Lockheed Lounge, made from empty gas cans. Afterwards, Giovanni posted pictures of the local chairs of Ouahigouya, which are pretty cool.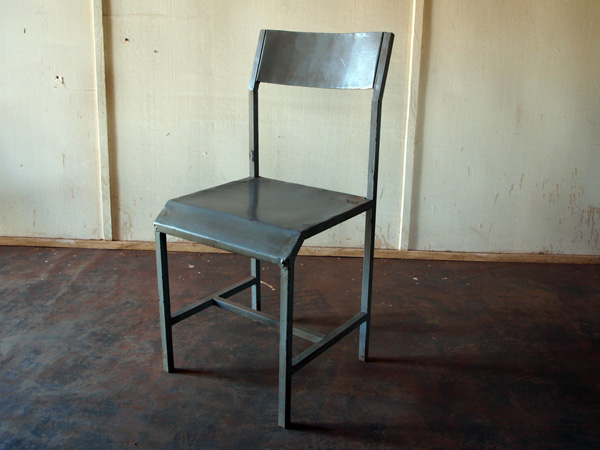 These first chair Giovanni describes as being common, but valued. Robustly welded together, I guess they last a long time and are too heavy to steal easily, although apparently they are also pinched with holes to mark ownership. They can be hired from at least one local shop too. I find their straight angles harmonic and the 45 degree downward tilt at the seat edge a nice expression of their production technology. The extra work required to produce the curve of the back rest is limited to that one location, reflecting a poetic economy. The fact that they get very hot in the sun is a weakness, but also an indicator… I guess no one has sat down here for a while….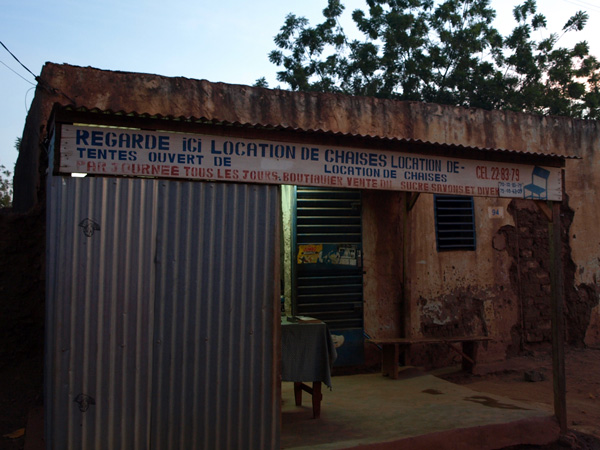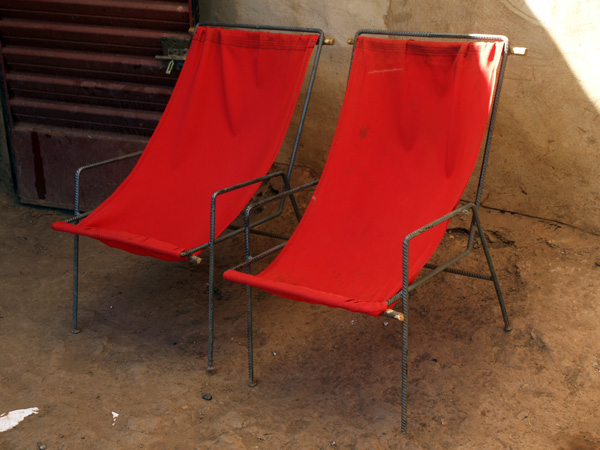 The next chair, a hand-made beach style chair, is described to Giovanni as being "for the poor" and uses waste material from construction sites. Its not elegantly resolved,  but it reminds me of the first cantilevered chairs built by Mart Stam from welded gas pipe. I was always aware that the Dutchman Mart Stam came up with the idea of the cantilevered chair before Marcel Breuer, what I didn't know was that it was, perhaps my favorite architect, Mies Van de Rohe who originally saw Stam's chairs and communicated the idea back to Breuer at the Bauhaus. This became knowledge during the lengthy legal battes Stam and Breuer fought over the intellectual property in Germany, which Stam won. However, Breuer was succesful in keeping his pre-existing patents in the United States and elsewhere, resulting in the commonly held belief that he was the original designer of this type of chair.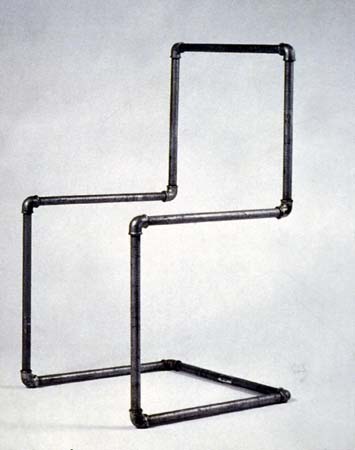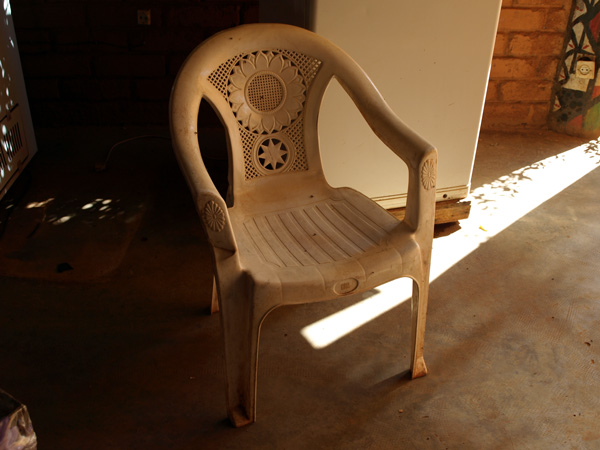 And then we come to the Monobloc. No surprise, because this generic injection molded garden chair is seen everywhere around the world. I haven't seen this chair with such detailed decoration before, even though I have been to China many times, which is where I assume this chair is made. I probably just ignored them, easy to do. Yet, in the dusty street scape of Ouahigouya, such a chair stands out. The decoration does not look African, but perhaps some form of Chinese or Indian derived lotus flower decoration. I guess it might be Arabic, which would place it slightly closer to its home geographically. The meshing on the back rest makes sense for such a hot climate, but why would such a detailed chair be in Burkina Faso is curious in the first place. Well, these Monobloc chairs are everywhere, and I guess it makes no sense to exclude this style from a place Ouahigouya. In fact, with these injection molded chairs, it makes little difference whether the chair is decorated or not. The original time spent to design the decoration does not impact the production process and as the production increases the extra design cost cost becomes divided by the hundreds of thousands or millions of chairs made from the mold. It arrives at a paradox; the decoration on the chair has an infinitesimal cost per chair due to the mass production process, so is considered to add value without cost. However, the value of this decoration relies on the historical notion of such decoration being hand carved, which being mass produced, is not, and therefore has no value.
Aesthetically speaking, I am very liberal, meaning I can tolerate many styles or genres of design.  Especially if I understand why they exist in that form.  But this kind of decoration grates on me, because I see it as an odd representation of the less democratic values of hand-carving expressed in the newer democratic medium of injection molding. The aesthetics of the minimal 'West' are in conflict with the decorative 'East' because the West experienced the doctrine of modernism e.g less is more, and the philosophy of Adolf Loos' ornament is crime. This philosophy stood to improve production economies and the aesthetics of the machine. Yet if the East mostly skipped this era they then see things differently; if decoration does not impinge on production economies, such as in this chair, there is no reason to not include it. The schism is something which some contemporary artists have addressed by re-introducing craft processes to mass produced objects, such as in these Monobloc variations, or the post-consumer Monobloc decoration of Tina Roeder, who drills old Monoblocs with thousands of holes, below. An emerging economy like Burkina Faso is a place, however,  which will experience a very different arrangement of craft and production culture.  Potentially, the issue of decorative value will be resolved well in a place where different material and technological resources meet social needs relatively lacking in the cultural baggage of industrial production.
UPDATE: Giovanni Innella has now published his extraordinary work in Burkina Faso as a book, which can purchased as a print copy, or downloaded as a PDF.