Tommorow, the exhibition Unmaking Waste will open at UniSA's SASA Gallery in Adelaide.
On Saturday, I'll be presenting my peer-reviewed paper "Mixed Up: Re-thinking the sensibility of reinforced concrete" at the Unmaking Waste conference. The paper concerns the problematic obsolescence of steel reinforcement used in concrete as a composite material – a 'monstrous hybrid', as McDonough and Braungart would say. This concept is illustrated through a discussion of my previous work Gilded Concrete Low Table. In may paper I contrast the failures and costs of many 2oth century structures, and the future obsolescence of many more, with the two millennia year old Pantheon in Rome. I draw content from Robert Courland's excellent book Concrete Planet, but use my analysis to indicate strategies for designers to firstly understand material ecologies as active and vibrant, with all the anthropocentrism that curtails, and secondly to use 'maintenance' as technique drawing attention to improper material use.
For the associated Unmaking Waste exhibition, I contributed a number of works – a table, a slab, an object made from reconfigured construction site markers and a chalk wall drawing. These all address, in different ways, the problem of steel oxidation (rust) inside concrete and the resulting spalling, when the concrete is literally forced apart by the rust-driven expansion of the steel.
Details and images of my practical works below.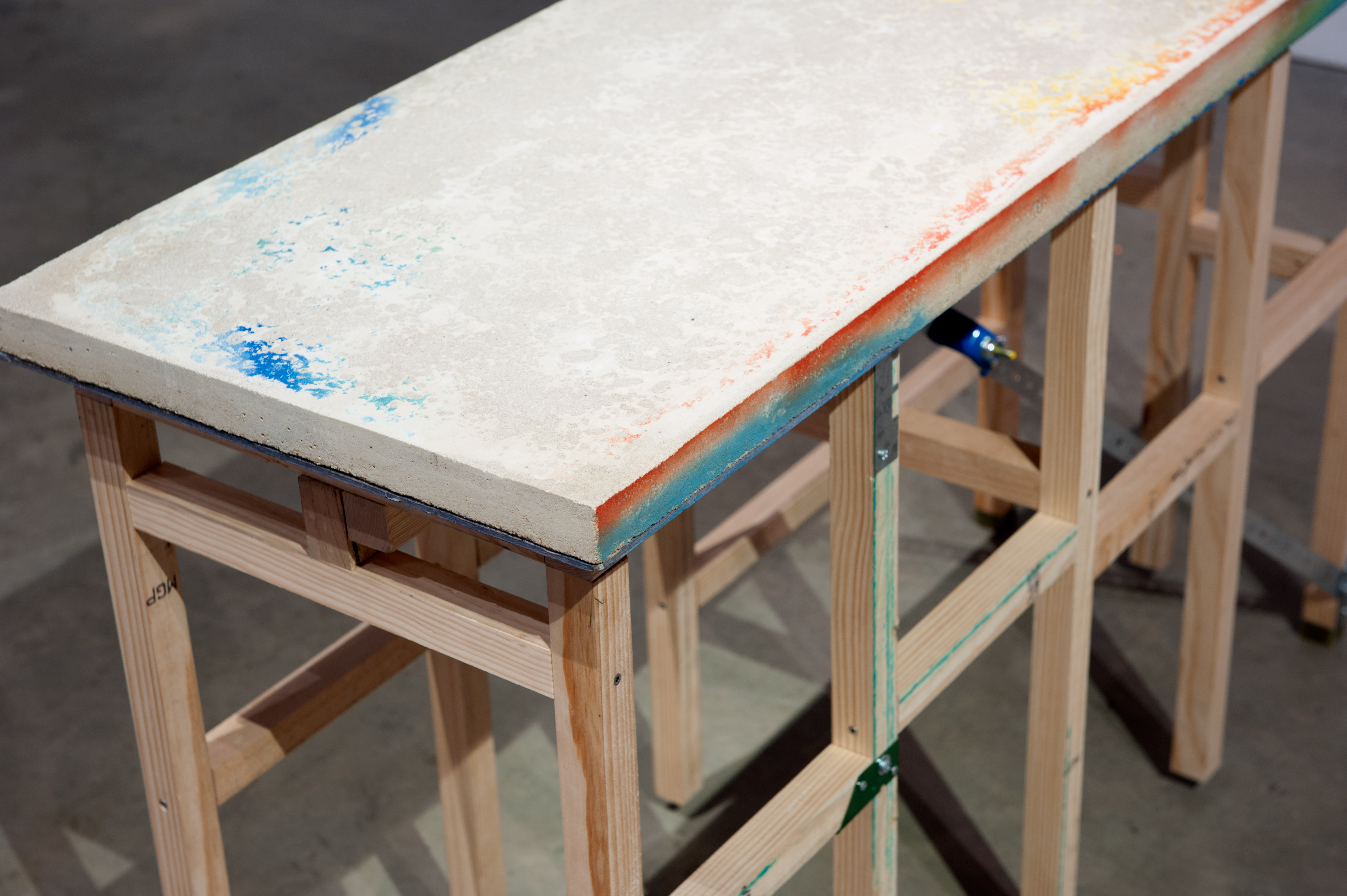 Exhibition launch
6pm Thursday 21 May 2015
Exhibition open
Tuesday 5 – Friday 29 May 2015
11am – 5pm Monday – Friday
SASA GALLERY
Level 2, Kaurna Building,
City West Campus,
UniSA Cnr Fenn Place & Hindley Street,
Adelaide
08 8302 9274
www.unisa.edu.au/sasa-gallery
Artists/Designers:
Charles Anderson, Singh Intrachooto, Guy Keulemans, Mandi King, Kirsty Máté, Kerstin Thompson, John Quan, Peter Walker, Stuart Walker and Andrew Whittaker
An exhibition developed by Zero Waste SA Research Centre in conjunction with the Unmaking Waste Conference.
Photos here by Steve Wilson.